Do you remember back in the day when Walkmans, CDs, vinyl records were a thing? At that time, these were known as true lossless audio. However, 2022 is now the year of hi-res music, which allows storing music in file formats like FLAC, ALAC, WAV, AIFF, and DSD.
Well, it's taken years to enter into a massive advancement of technology, but it's finally getting easier to listen to lossless audio due to various audio formats such as PCM, WAV, AIFF, DSD, FLAC, ALAC, etc. And this becomes possible due to various lossless streaming services and the best music locker apps for iOS free, like Tidal, Amazon, Apple Music, Media Leap, and many others, supporting all music file formats.
Some of the best music streaming apps for both Android and iPhone, for example, Media Leap, have started gaining popularity across the world due to their diverse functionalities and high-standard music streaming features. With the availability of such capabilities, music lovers have started switching to such cloud-based streaming services.
You don't even need phone storage space for creating a playlist since the Media Leap app offers 1TB additional free space for downloading and listening to your favorite music in offline mode. It means when there is no Internet connection, here is your chance to enjoy the music of different file formats, including FLAC, MP3, and OGG.
MP3 files have auditory problems due to their lossy format. Whereas there are no losses for FLAC. That's why it's named as a lossless file format. FLAC is a cost-effective way to distribute CD-or-better-quality music. Like MP3, FLAC isn't just restricted to 16-bit (CD quality), and you can buy files up to 24-bit/192kHz for another potential boost in performance.
So, let's discuss in detail how to download high quality FLAC music for free!
What Does FLAC Music Mean?
FLAC (Free Lossless Audio Codec) is a file format that stores music or sound without loss of quality. Its main task is to compress audio files without losing quality. It doesn't remove any information from the audio stream and is highly recommended to use for listening to the music of high quality.
A lossless file, the FLAC is compressed to nearly half the size of an uncompressed WAV or AIFF of the equivalent sample rate without any loss. FLAC files can also provide a resolution of up to 32-bit, 96kHz, so better than CD quality.
It's considered the best format for downloading and storing albums in Hi-Res-audio.
Evolution of FLAC (Free Lossless Audio Codec)
With time and evolving technology, discs and CDs were replaced by ubiquitous MP3 players that could play on different devices. Due to this revolution, we no longer need to carry bulky equipment to enjoy our favorite tracks.
As we discussed above, MP3 is a lossy format, where you can lose some of the data in this file. And, music lovers and artists also came up with the need for large quantities of sensitive audio formatted files, supporting hi-res audio files. And thus, FLAC appeared 6 years after the appearance of MP3.
It wasn't possible to make the file smaller than in MP3 without losing music quality. But today, this is no longer a problem, because almost every user has at his disposal quite capacious storage. The vast majority of modern devices (smartphones, computers, tablets, audio systems, etc.) support FLAC.
Best Lossless Music Streaming Services in 2022
You might be wondering where to go to enjoy the lossless music of FLAC format. However, you now don't need to invest time in searching. Here, we come up with some best music streaming services that support FLAC files and let you enjoy music.
TIDAL – High Fidelity Music Streaming
From November 2021, Tidal has launched three different subscription services – Tidal Free, Tidal Hi-Fi, and Tidal Hi-Fi Plus. Tidal Free is an ad-supported service, which allows users to lossless tracks (up to 160kbps).
Tidal Hi-Fi allows you to enjoy more than 80 million tracks in lossless CD-quality sound (up to 1411kbps). And, Tidal Hi-Fi-Plus lets you listen to certified tracks of 24bit/96kHz as well as audio tracks like 360 Reality Audio and Dolby Atmos Music.
Tidal supports formats, including AAC, ALAC, and FLAC. Through Tidal Hi-Fi and Tidal Hi-Fi Plus, users can easily get access to artist exclusives, music videos, and live concerts.
Number of Lossless Tracks: Over 80 million
Max Streaming Quality: 24bit/96kHz for Tidal HiFi Plus
Supported Formats: AAC, ALAC, FLAC
Price: $10/month with a 30-day free trial for new users
Amazon Music Streaming
In 2019, Amazon has launched its lossless streaming services, which starts costing $8/month for Prime members or $10/month for non-Prime members. And secondly, it allows you to enjoy really high-resolution audio. The app came up with two different tiers of lossless audio – "High Definition" tracks and "Ultra HD" tracks. The maximum audio quality of lossless music is 24-bit/192kHz, which is available for streamers.
A Number of Lossless Tracks: Over 60 million "High Definition" tracks and millions of "Ultra HD" tracks.
Max Streaming Quality: 24bit/192kHz
Supported Formats: FLAC
Price: $13/month for Prime members and $15/month for everybody else (90-day free trial for new users)
Media Leap – Cloud Music Locker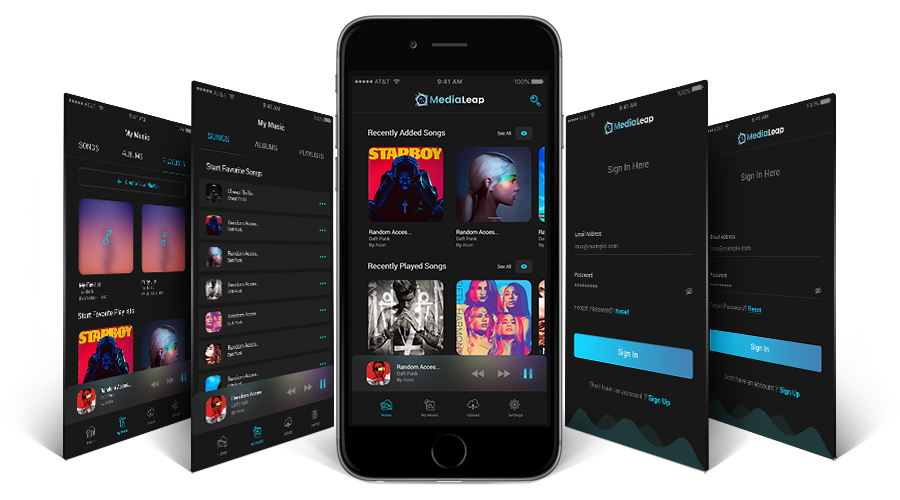 Media Leap is a personal cloud music locker & streaming app, allowing you to upload your music and listen to it online via a web browser, mobile app (both iOS and Android). Through this app, you can download music onto your devices allowing for offline listening. The app offers free storage of 1TB. By simply creating an account, you can install the app on an Android or iOS device.
People usually prefer the services of those online music locker service providers and supports various music file formats like MP3, OGG, and FLAC. The app allows its listeners to create different playlists that are secure to share on social media platforms.
A Number of Lossless Tracks: Allow to enjoy lossless music and download music for listening to offline mode
Supported Formats: MP3, OGG, FLAC
Price: $5 paid monthly plan and $30 paid yearly subscription
Deezer – Online Music Streaming Platform
Deezer is also an excellent lossless streaming service, which allows users to enjoy hi-res CD-quality FLAC files. Its Deezer Hi-Fi plan is the best option for audio lovers. However, the app doesn't support Master Quality Authenticated (MQA) tracks.
Number of Lossless Tracks: Over 73 million tracks
Max Streaming Quality: 16bit/44.1kHz
Supported Formats: FLAC
Price: $15/month ($2 for first two months)
Best Ways for Listening to FLAC Music For Free
The FLAC audio format guarantees hi-res audio quality while reducing half the file size. It's widely popular among music producers and music artists. The format is broadly compatible with mobile phones, music players as well as other applications. Many audiophiles love FLAC music and are always in search of good places for downloading FLAC music.
Are you one of such audiophiles or music lovers? This section will help in downloading high-quality music. Just read on and choose your favorite option.
Method 1: Download FLAC Music Through Media Leap
Since the market is fully-fledged with hundreds of music streaming services, it becomes quite easy to pick one well-recognized app according to your preferences. While picking one, make sure it supports all the audio file formats, has access to millions of lossless music, enough storage space, offline mode, etc. For accessing such advantages, Media Leap is here to assist you. Here are the following benefits of our cloud locker streaming service:
The best sound quality that allows access to hi-res music
Affordable price for music storage and streaming.
Enough storage size of 1TB free space to satisfy the need for locker creation
Offline music listening facility that gives you access to millions of lossless tracks.
The app is compatible with all devices (Android and iOS).
Allowing and accommodating multiple devices by offering family plans.
We have also discussed some of the best lossless music streaming services apps above. You can take advantage of these to enjoy high-quality music.
Method 2: Free Download FLAC Music Sites
There are various so-called FLAC download-free sites. So, if you're looking for some free FLAC music download sites, torrent sites are surely the best place to go. Through these sites, you can download FLAC files. Just, by typing the music title + FLAC, you can find thousands of related results.
Download Media Leap App for Hi-Res FLAC Music
So, we have observed that the FLAC music format is a new lead to the future. Music listeners are turning to HD supporting apps that will surely make the difference in quality.
Media Leap, the best online music locker service, is launched to take advantage of lossless or hi-res audio files. Despite this, the app also offers the option of listening to music in offline mode when there isn't any Internet connection. From 1TB free space to quality music streaming, global community of music listeners and artists.
This isn't only enough! With this best music locker service, it's just a matter of seconds to upload your favorite music tracks, create a playlist, name the song, and so on. Now, you even have a full chance to tune to FLAC music files to experience hi-res music. Other than this, you take advantage of MP3 and OGG files.
For HD streaming services, download the Media Leap app today!